Welcome to the newly re-designed Robert Orndorff web site. I figured that after 8 years, it was about time to "freshen up" the site a bit. I'm still experimenting, so you will probably see it change over the coming weeks.
I didn't want to do away with the friendly "Don't Panic" logo, so here it is.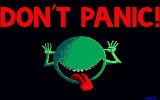 You can email me, if you like, by clicking the following link (javascript required!) web_mail at rmonet.com


Ok, with that out of the way, here are the links to what you may find interesting here at rmonet.com.



I recently switched over to BOINC. It is the new software base for the Seti@home project. Unlike Seti@home classic, BOINC allows you to give CPU cycles to more than one project. Here's a link to my BOINC stats page

Some of my recent discoveries:

Here are the sticky sites (they'll be here for a while...)

Total Commander, the best file manager around.
PSPad is a fantastic freeware text/html/programmer's/hex editor.
OpenOffice.org is a really good, open source, and completely free Office suite. Who needs Microsoft Office?
Opera is my web browser of choice.
Mozilla.org is the home of Firefox, Thunderbird, and the Mozilla suite.